More use of social media video; greater decentralization of content. What latest research now shows.
Each year, one of Living Stone's key inbound marketing partners, HubSpot, releases a State of Inbound research report. Its eighth annual edition covering attitudes and trends for 2016 was issued in September.
Thousands of marketing and sales people worldwide were interviewed about their challenges, priorities and strategies. Most were from marketing agencies (17%); others include IT and services (13%), industrial and manufacturing (5%), and healthcare (4%).
Among all respondents, 73% said inbound was their primary approach to marketing. For subjectivity, only 15% were HubSpot customers or agency partners. This and subsequent blogs will describe the report's key revelations. This covers the challenge of aligning inbound marketing and sales roles.
Decentralizing promotional content among new social media channels, including more social-based video, is the future of marketing say inbound marketers answering HubSpot's survey.
And it's not just traditional Twitter, Facebook or LinkedIN. Many marketers will experiment with newer social outlets like Medium, Slack, Instagram and Vine. Efforts are underway to test other new channels, too, along with a more decentralized approach to content distribution. But it's a task few marketers have mastered at the moment.
In an unexpected finding, an adequate number of survey respondents (15%) report podcasts as a key marketing channel they'll use over the next 12 months (Back to The Future anyone?) That's slightly behind messaging apps at 20%.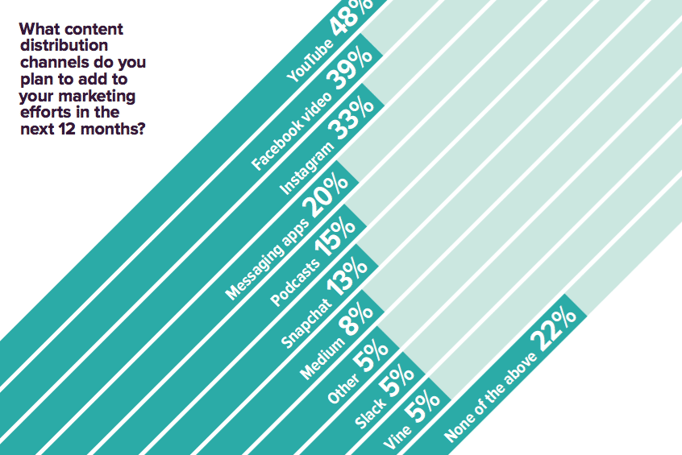 Video strong but geography-dependent
As the chart reveals, two video outlets aligned with social media lead among marketers seeking more decentralized paths for their marketing content. But disparities arise based on geography.
At 35% and 46% respectively, marketing professionals in North America (NAM) and Europe (including MEA) report being less likely overall to try video. In NAM, only a third say they will use YouTube or Facebook Video. Planned video usage in both regions is lower compared with other areas.
For example, more than half the respondents in Southeast Asia (53%) and Latin America (56%) plan to strongly leverage video as part of their upcoming marketing activities. The cause of the disparity between EMEA/NAM with other regions is unknown as the survey did not probe reasons behind the decisions.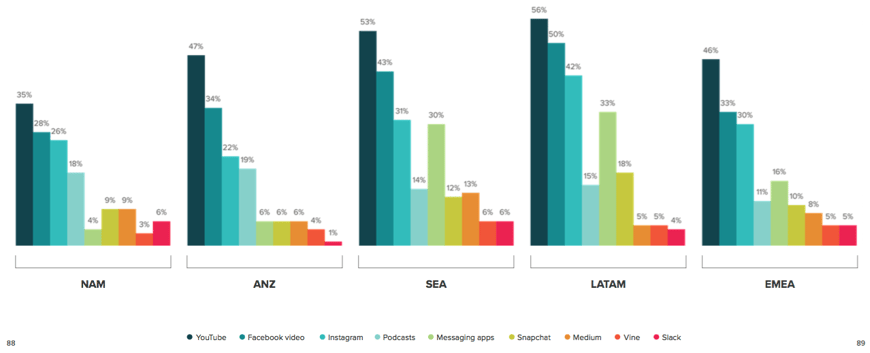 What content distribution channels do you plan to add to your marketing efforts in the next 12 months? (by geography)
Organizational seniority a factor
Again, video leads in the selection of decentralized channels among all respondents but an unexpected disparity based on company seniority appears. C-levels are the biggest proponents of YouTube and Facebook Video at 56% and 46% respectively. The rationale behind this phenomenon was not explored.
Closer to the working level, VPs, directors and managers still gravitate toward video but at lower percentages. Podcasts as a viable decentralized distribution channel always came up in fourth place among all levels. It appears most marketing professionals believe both video and autonomous audio content will help win the future.


What content distribution channels do you plan to add to your marketing efforts in the next 12 months? (by seniority)
On an unrelated note, these same respondents were asked to convey what channels or technologies will most disrupt their industry. 41% said marketing automation; 35% stated virtual reality and artificial intelligence (AI), and; a handful specifically said Snapchat…no further explanation given!
Trials and tracking
In summary, the HubSpot survey says respondents will move slowly in integrating marketing content into new and more decentralized distribution streams. It'll be a deliberate trial approach versus quick, sudden change.
A basic goal is determining how best to reach customers on more diverse channels outside of traditional e-mail. They'll also look for formal authentication of content efficacy sent via these new paths. This can include services like:
Showpad : A sales enablement and analytical tool to manage, transfer, share and track digital content use by sales, marketing and other teams. Showpad is currently considered the number one tool for sales
SONAR : An analytical service offering a unified view of what's happening to various online content across multiple digital distribution channels (social media; video; e-mail; messaging, etc.) This analysis can cover any period from real-time, daily, monthly to quarterly. The report that results uses dashboard style displays to link individual measurements of content on each channel to pre-set KPIs. It compares how the public handles information by channel.