Do you really understand your customers' pain points? A lot of what we do as healthcare marketers is tied to those pain points. So the more thoroughly we understand them, the more relevant and valuable our marketing activities will be.
So how can you make sure you really understand your customers' pain points, and the motivations that drive them? Luckily, there are lots of ways to learn more about your customers' pain points, ranging from asking them directly to doing different types of research.Most pain points fall into just a few categories: pain points relating to productivity, pain points relating to process, and pain points relating to finance1. In healthcare, many of the pain points that your customers are facing are well-documented: stringent regulatory and compliance standards, budget squeezes, disruptive new technologies, talent gaps, and the changing expectations of patients and consumers2 .
To drill down further, into the pain points that are most important to your customers (and to identify the key aspects to focus on in your marketing programs), talk with customers, and work with sales, to learn the answers to these questions:

(from HubSpot3)
What's your main obstacle to growth (for your division or company)?

What is your biggest problem?

What keeps your boss up at night?

What topic keeps coming up as a problem at company meetings?
The answers will give you a deeper perspective on the specific challenges facing a customer. If you're able to talk to multiple customers, you'll see what challenges are shared, and which are most important.
Beyond talking directly to your customers, how can you learn more? Here are some other ways to dig deep and gain a better understanding of your customers' pain points and motivations:
Check in with your buyer personas
This sounds facetious, but it isn't. Presumably you developed your buyer personas based on a solid understanding of your customers, and their needs. So what are the pain points of your personas? (If they don't seem relevant or valuable, it's time to update your personas – in line with your new research.)
Look at how visitors are using your website, and how they're accessing/using your content
What are people searching for on your website? What content are they looking at? What topics are drawing them in? How do they react to different types and topics of content? Look at your user metrics, and comments, likes, shares, etc., to see what's top-of-mind for your visitors.
Find out what people are searching for online
Use free tools like QuestionDB or Answer the Public, or paid analytics like SEMrush, to see what searches people are doing, related to your industry or product.
Get more active on LinkedIn
LinkedIn is the key social platform for healthcare and B2B. The healthcare professionals that you want to reach are more active on LinkedIn than any other platform. They might be hesitant to participate professionally on platforms like Facebook, Twitter or Instagram, but LinkedIn has a reputation for security, privacy and professionalism that draws business leaders in. Here is a sampling of who you'll find on LinkedIn (global figures):
630 million members

180 million senior-level influencers

63 million decision makers

8 million C-level executives 4
To learn all you can about pain points on LinkedIn, start by looking for relevant industry groups, and participate in the conversations. Find the thought leaders in your area, and follow and link to them. See how your competitors are active on LinkedIn. You'll start to get a sense of the issues that are most important in your industry, and you'll see who is driving discussions about a particular topic.

Join industry associations, user groups, etc. in person and online
As a healthcare marketer, you're likely already a member of several industry groups and associations. Make sure to attend as many in-person meetings as you can. Why? Well, what do people talk about at an industry meeting? Their work problems! This is great way to stay up-to-date on your industry, and hear about key pain points first-hand.
Hold a focus group
This can be an effective way to recognize your long-term customers, and ask a few questions about their pain points at the same time. Or hold an information session on a topic that's of value to customers and prospects, provide dinner and drinks and a chance to network with each other, and devote a small part of the presentation to asking about attendees' pain points and challenges. This can be a nice way to build relationships, make connections and learn more about the pain points of your customers and prospects.
At Living Stone, we specialize in marketing strategies for healthcare. If you'd like to strengthen your marketing programs, or learn more about aligning your programs with your customers' pain points, contact Anne-Mie Vansteelant at Living Stone, at +32 55 591 007 or anne-mie.vansteelant@livingstone.eu.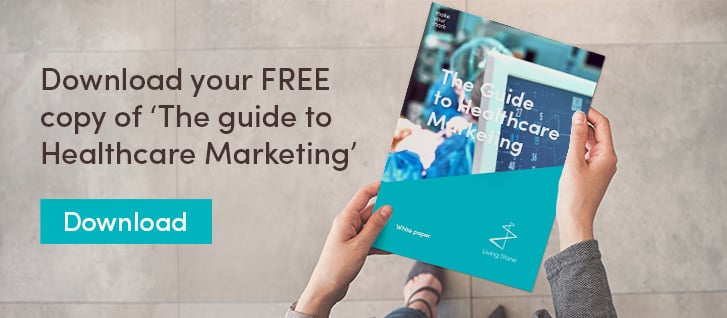 Resources
1. Dan Tyre, "8 Questions for Finding Business Pain Points," April 9, 2019, HubSpot, retrieved from: https://blog.hubspot.com/sales/uncover-business-pain
2. Dr. Stephanie Allen, "2020 global health care outlook," Deloitte Insights, 2019, retrieved from: https://www2.deloitte.com/global/en/pages/life-sciences-and-healthcare/articles/global-health-care-sector-outlook.html
3. Dan Tyre, "8 Questions for Finding Business Pain Points," April 9, 2019, HubSpot, retrieved from: https://blog.hubspot.com/sales/uncover-business-pain
4. LinkedIn : https://business.linkedin.com/marketing-solutions/blog/best-practices--thought-leadership/2018/introducing-the-executive-playbook--your-guide-to-an-exemplary-c