Just like all other aspects of our lives, social media is truly transforming healthcare. From the patients who search for information on their symptoms, to the physicians who use it to exchange information and interact with medical professionals from all over the world, social media has opened up new ways to access and share information and experiences. But this wide-open access to information along with "fake news" sometimes comes at a cost - think of the damage done by anti-vaxxers online, or the proponents of unassisted home births.
When it comes to healthcare marketing, the value of putting budget resources into social media campaigns still hasn't come clear. For some B2B organizations, social media efforts just haven't gained the expected traction. The strict regulatory and compliance requirements that govern healthcare communications also add an extra layer of complication.
So what's the best way to engage in social media without feeling like you're throwing budget resources away?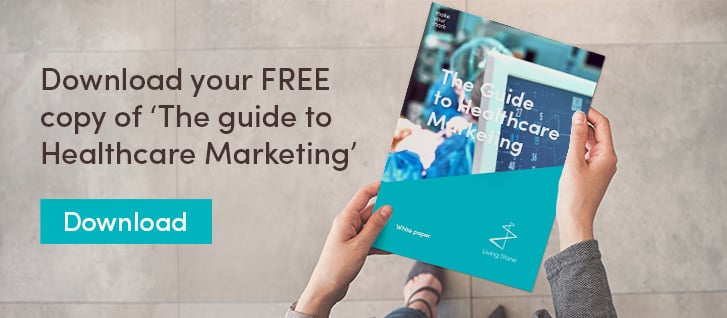 Who do you want to reach?
Well, first let's look at who you want to reach, and how they're using social media. For members of the general population, searching for information on health and medical conditions is a very popular pastime. Eighty percent of internet users in the US have searched for medical information, according to the Pew Research Center. For teens and young adults, it's even higher: 87% say they have searched online for health information.[i] This ties in with the growing trend towards people managing their own Patient Health Records, and the increased use of patient self-monitoring tools. In fact, this was cited as a top trend to watch over the next two to three years in the Annual European eHealth Survey[ii].
But what about clinicians? What do they want from the internet and social media? It turns out they want information too, plus a chance to network with their peers. In a study on "How Health Care Professionals Use Social Media to Create Virtual Communities,"[iii] researchers from the UK and Australia found that the top reason to seek out an online community was the chance to talk with others about relevant professional and academic issues, and share information.
Using social media to build communities
When it comes to communicating with their patients using social media, though, the numbers are low. For example, a survey of 700 physicians, nurse practitioners and physician assistants in the US[iv] on their communication preferences found that less than 4% use social media to communicate with their patients.
This 4% finding is in sharp contrast to how some of the biggest pharma companies are using social media to communicate with consumers. By focusing on the diseases that their products address and the affected patients, rather than the medications, these companies are providing support and community along with education. A leading diabetes care company, for example, created a Facebook community which operates as a place for diabetes patients to share their experiences and suggestions, such as how to manage diabetes in order to run a marathon, as well as scientific information. A major pharma company offers another example, with a campaign intended to generate a new, more positive attitude towards aging. The campaign includes a website, video, articles, blog posts, and more, focusing on health and wellness as we age – but doesn't mention the company's products. By avoiding any direct advertising or claims, these types of social media programs build awareness and strengthen relationships, all while keeping clear of any regulatory concerns.
But what about the organizations who fall somewhere in the middle – those who don't want to launch a major awareness/goodwill campaign, but still want to maximize their social media efforts?
A platform for healthcare professionals: LinkedIn
For healthcare marketers who want to reach out to clinicians and the hospital C-suite, LinkedIn has emerged as a very effective platform. You might never find these healthcare professionals on Twitter or Facebook, but chances are very high that they are active on LinkedIn. It offers them the chance to network and share information, in a professional and secure online environment.
Try some of these suggestions to maximize your activities on LinkedIn:
First, make sure your company's LinkedIn page is built out fully. Don't just put a link to your corporate web page. Include all the information that's suggested by LinkedIn, including company and executive profiles, etc. Make sure your key execs, sales and marketing people are active on LinkedIn, with fully completed profiles.
Then, start exploring. It's easy to find different types of clinicians, for example, as well as the groups they participate in. Options to reach out to them include direct sponsored content (which will be shown to your selected targets, but it won't clutter up your company page as an update.) This content should be helpful and informative, never sales-y. A customer reference case is about as far as you should go in promoting your company. Other types of content to try: blogposts about trends/challenges in your industry, tips and tricks, etc. The easy-to-use metrics in LinkedIn will show you exactly how well each piece of content performs, so you can create more or less of that type. Consider an InMail campaign, and join and participate in LinkedIn groups that your targets belong to.


At Living Stone, we organize workshops for healthcare marketers to explore ways to maximize ROI for social media programs. If you'd like more information, or would like to organize a workshop for your company, contact Anne-Mie Vansteelant to learn more.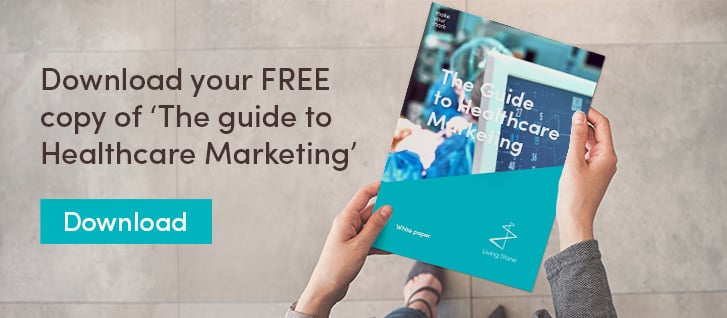 ---
[i] "Digital Health Practices, Social Media Use and Mental Well-Being Among Teens and Young Adults in the US," by Victoria Rideout, M.A., and Susannah Fox, A National Survey Sponsored by Hopelab and Well Being Trust, Summer 2018, [last accessed Nov. 7/18] Available from: https://www.hopelab.org/report/a-national-survey-by-hopelab-and-well-being-trust-2018
[ii] "Annual European eHealth Survey," HIMSS Analytics, [last accessed Nov. 8/18] Available from: https://www.himss.eu/healthcare-providers/ehealth-trends.
[iii] "How Health Care Professionals Use Social Media to Create Virtual Communities: An Integrative Review," Kaye Rolls, Margaret Hansen, Debra Jackson, Doug Elliott, J Med Internet Res. 2016 Jun; 18(6): e166. Published online 2016 Jun 16. doi: 10.2196/jmir.5312.
[iv] "Annual Healthcare Professional Communication Report 2018: Engaging a Market in Transition," HealthLink Dimensions, [last accessed Nov. 7/18] Available from: https://www.healthlinkdimensions.com/guides/annual-healthcare-professional-communication-report-2018/