Why invest time and money in an ongoing reference marketing program? The hidden payoff of customer loyalty is a big reason.
So we all know about customer reference programs (CRPs), right? Strategic brand marketing increases the likelihood of customer purchase, while a winning reputation conveyed by a CRP solidifies the identification of all stakeholders with the brand, which in turn influences supportive behavior and purchases by those stakeholders as well as new prospects.
A winning reputation sets organizations apart from competitors, and CRPs impartially convey why customers purchase its products, investors buy its shares, or an industry embraces its activities. Reference marketing programs validate the experiences of current customers, inspire future ones, motivate employees, supports sales and build communities of practice.
They enhance reputation through endorsement via the customer's voice.
But these programs take time to execute and maintain properly (repetition is key; one or two customer references won't change buyer behavior, similar to one television ad won't bring huge sales increases.) Is all the ongoing effort and cost really worth it?
Rungs on the loyalty ladder
Consider this… a lesser-known CRP benefit is the chance it gives customers to enhance their non-purchase value by strengthening their emotional attachment to the brand and organization behind it. This benefit is often overlooked when determining the lifetime worth of a sale due to the challenge of accurately measuring the customer's reference value.
One way to better quantify this aspect is encourage customers to ascend various rungs of the loyalty ladder and turn them from commodity buyer to valued partner by being a product endorser.
As the table shows, an ongoing reference marketing program can increase sales opportunity in areas like new product development, joint R&D or marketing programs, or possible financial investment in your brand as an ultimate expression of loyalty. Profiling customers as visionary (an early adopter), a problem-solver or opinion leader also builds loyalty.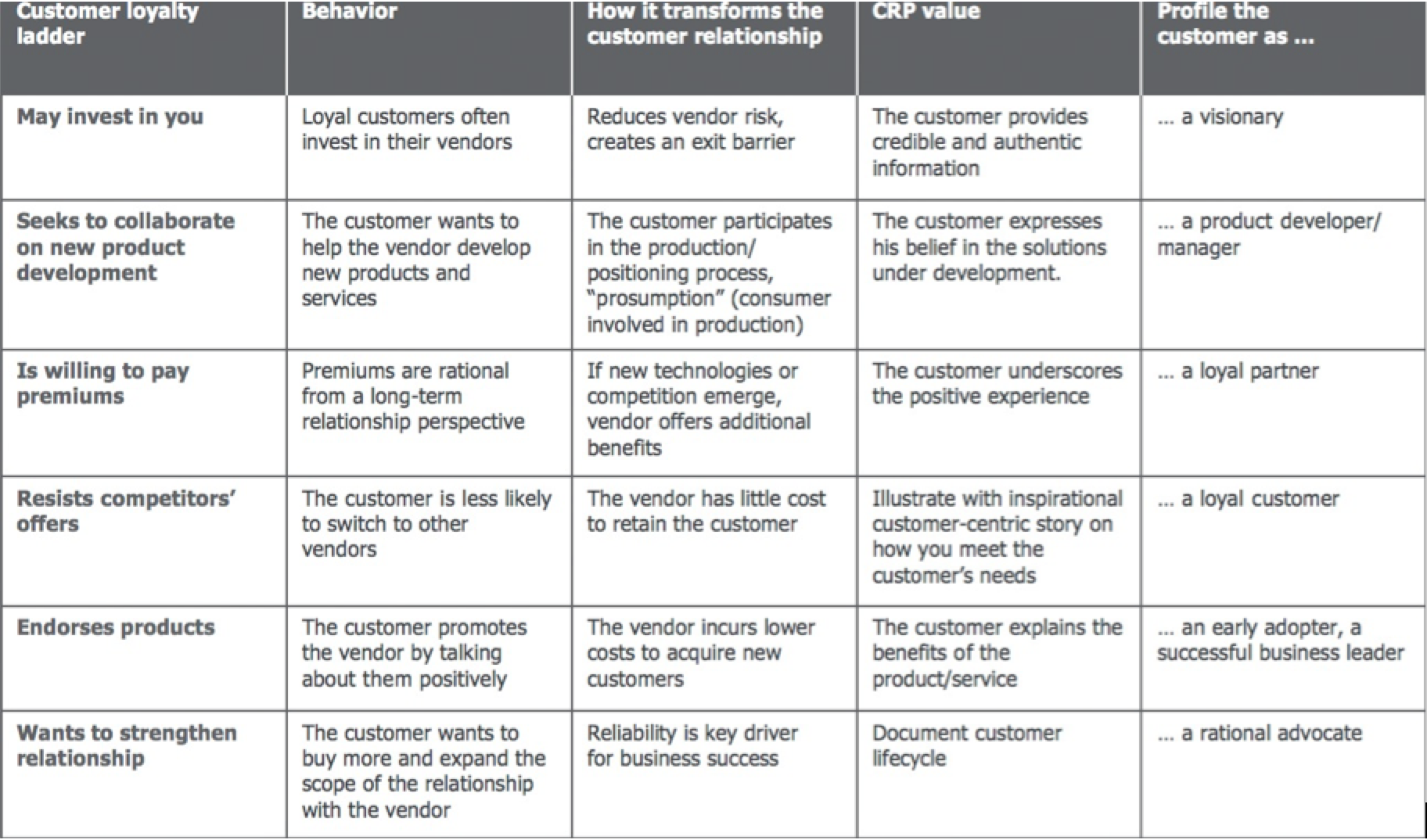 A key goal of reference marketing is to increase customer loyalty in a quantifiable way shown by a willingness to invest in your business or product; collaborate on same; pay premiums, or; resist competitors. It's documentable ROI of a reference programs' value.
CRP tools include:
Written Case Study or Success Story
Video Testimonial (to complement the written version or as a 'stand-alone' tool)
Arrange press interviews or meetings for your customer with key market analysts
Customer quotes endorsing product or company in supporting channels (web; social media; press release; brochure; others)
Reference case
Download an example of a healthcare case study or a technology case study and find out how much impact this has.