If you're a B2B marketer working in 2017, you've likely switched over to an inbound marketing approach, based on the three stages in the buyer's journey: awareness, consideration, and decision. But has your sales team made the same switch in how they sell your product or solution?
Today, sales reps need to understand and engage in social selling. And the social media and tactics they use need to be fully supported by your marketing approach. You can bet that your reps are already using social media to engage and communicate with prospects, even if you haven't factored these interactions into your marketing plan. So if this activity isn't fully understood and integrated into your marketing strategy, you risk message misalignment, lost opportunities, or worse.
The good news is that it's easy to integrate the social selling activities of your sales reps with your inbound marketing strategy. To visualize how these approaches are connected, let's look at where and how social selling fits within the inbound marketing model.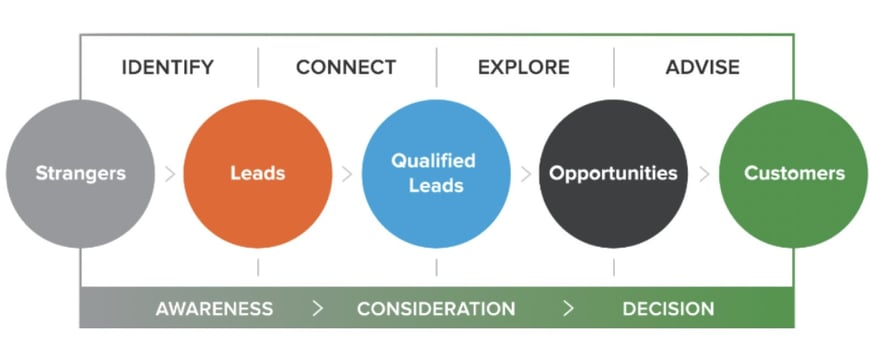 So while marketing is focused on the stages of awareness, consideration, and decision, sales sees it as a process of helping prospects through the stages of identify, connect, explore and advise. The key is to align these stages as closely as possible.
Here are three ways you can strengthen the connection between social selling and inbound marketing:
Make sure your content aligns with sales' needs.
Talk to sales about all of the content you develop. They've got the best insight into what prospects want, what they're concerned about, their pain points, etc. So make sure the content you produce matches what sales needs. If you don't produce what they need, they'll produce it themselves, or find it elsewhere – and you probably won't like the results. Your sales reps need to be able to respond to the pain points and concerns of all types of prospects. Make sure your content can do this, for all of your buyer personas.
And make it easy for sales to find what they need. If your content is buried in your intranet, or poorly organized, reps will give up – they won't waste time trying to figure out a complicated filing system.
Help sales understand that their social media profiles are meant to support their work for your company, not to promote their own brand.
If you're a sales rep, LinkedIn is not the place to highlight your resume (unless you are actively looking for a job!). As a representative of a company, your social media profiles and activity need to support your organization, and promote your solutions. They also need to present you, the sales rep, as an expert in your field, and the ideal person for prospects to seek insight from.
Develop a cheat sheet or hold a seminar to outline what sales reps' social profiles should and should not include, during the time that they're representing your organization. In this day and age, no one should be using professional social media accounts to share any personal opinions or info.
Develop a marketing plan to support social selling.
Offer sales reps daily or weekly social media posts, such as did you knows, industry news, links to new reference cases, or other material. Make it easy for them to share information that's of value to prospects. Develop a social media sharing calendar for them, to help them maximize their social engagement.
Smarketing
These are just some of ways you can strengthen the alignment between marketing and sales. For more insights and ideas, we invite you to attend our free Infusinar: SMARKETING.
Join Living Stone's Gunther Walravens and Anne-Mie Vansteelant at "SMARKETING – How sales & marketing can work together to improve results" on Thursday October 19, at Living Stone. During this session you will learn how a strong collaboration between sales and marketing can help your organization: