The Chinese consumer has an increasing amount of purchasing power, and is quite familiar with technology. In fact, in the first half of 2020, the volume of e-commerce exports to China increased by 24%. Many Western companies are looking at the potential of this market, and considering how to explore it through digital channels.
However, digital marketing in China has some very important differences compared to digital marketing in Europe, and there are many factors to take into account, both culturally and technologically, when developing your marketing plan.
The customer journey
Many of the platforms that we take for granted in the West are blocked in China (Facebook, Instagram, Google, YouTube,…), so as a result the Chinese internet looks quite different, and the Chinese internet user follows a different path to find information.

The search for information usually starts on platforms such as WeChat, Weibo or Douyin. On these platforms, users can typically find product information and reviews in the form of short videos.
Important considerations for a successful strategy
Western entrepreneurs are expected to understand the language and culture and to comply with all legal requirements imposed by the government. The points outlined below are critical if you want to successfully enter the Chinese market:
A local hosting platform
Websites that are offered from a server outside of China are very strictly screened by the government. A website hosted outside of China loads on average 10 to even 60 seconds slower than those hosted inside the country. Such a delay has very negative consequences for the conversion rate.
In addition, many Chinese search engines only show websites that are hosted on local servers. Merely adding a Chinese translation to an existing website, hosted elsewhere, will usually not fix this problem.
A local team
Many platforms such as Baidu (Google's Chinese counterpart) are only open to companies based in China. Besides the administrative and technical barriers, culture and language are also important challenges. For example, a well-known chain of pizza restaurants had the idea to launch an advertisement in which a pizza and Chinese chopsticks were displayed. This was seen as a Western firm making fun of Chinese culture. The advertisement caused a lot of aversion and was quickly banned on all Chinese media.
By having commercial messages checked by a local team, you can avoid having well-intended initiatives cause an unexpected commotion. Also keep in mind that many platforms only have a Chinese interface, and that contacts want to be served in their own language.
Search Engine Advertising (SEA) in China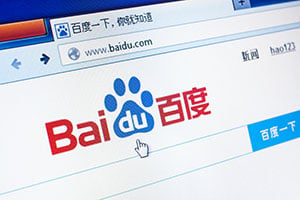 The largest search engine in China is Baidu. Baidu's advertising platform offers many possibilities, with an extensive display network of 600,000 websites. Ninety percent of internet users in China use Baidu as their search engine. As a result, you can potentially reach more than 700 million users via this platform.
Joining the Baidu platform is complex. A registration procedure at Baidu can easily take two months. However, with the help of a partner who has the right experience, this procedure can be smoothly managed.
The effort is worth it, though – once you have an account on Baidu, you have a very strong asset in your hands. It is precisely because of the strict admission requirements that the content on Baidu is experienced as authentic and credible. In addition, ads are not labelled as such as is the case on Google.
Social media in China
The popularity of social media is even greater in China than in the rest of the world. WeChat is so well established that it is indispensable in any social media strategy. In WeChat you can build a business page with which you can share posts, and visitors can contact you directly via a chatbot.
For advertising to B2B profiles in China, the options on social media are currently limited. LinkedIn also exists in China, but it is less popular than in the West. In addition, advertisements must be set up via the LinkedIn support team. There is no advertising account that you can use yourself.
A good alternative is to work with key opinion leaders. Marketing via short video messages from influencers is therefore very frequently used in China.
Conversion via QR codes
In China, QR codes play an important role in almost every transaction on the internet. Chinese website visitors expect a QR code with which they can contact sales directly via WeChat.
This practice also means that traditional contact forms will lead to minimal conversion in this market.
What if I want to do business in China from Europe?
Fortunately, you don't need to launch a subsidiary if you want to do business in China. At Living Stone, we can help you successfully navigate any administrative, cultural or technical hurdles.
We've developed a network of partnerships with various local agencies in China, who can assist with the administrative procedures, making it possible to gain access to various channels in China. Our local partnerships also ensure a sense of the local culture and market.
Contact us at +32 55 591 007 (or email at anne-mie.vansteelant@livingstone.eu) for more information about the many advertising and lead generation opportunities in China, and how you can gain access to them with a digital marketing program.