De twee centrale kandidaten voor de US verkiezingen krijgen vandaag alle aandacht in de wereldmedia. In de marge spelen nog wat andere kandidaten mee, die misschien beter zullen scoren dan verwacht, omdat heel wat Amerikaanse kiezers de keuze tussen hangen of wurgen niet willen maken. Beslist de kiezer overigens wel zo soeverein als we denken? Achter de schermen draaien de campagneteams van Clinton en Trump 24/7 om de kiezer uit de impasse te halen. Sociale marketing, online marketing, lead generation en conversietechnieken (schenken aan de campagne en last but not least, gaan kiezen) spelen een cruciale rol in de campagnes.
De campagnes focussen allebei op donaties: wie schenkt aan een kandidaat, ook als is het maar één dollar, is in beduidende mate meer geneigd om voor die kandidaat te stemmen. Dus hoe meer kiezers schenken, hoe groter de winstkans.
Banner advertising is een belangrijk element in de visibiliteit van de kandidaten op de digitale media. Wat opvalt is de directe stijl: altijd een foto van de kandidaat en een ondubbelzinnige call to action (CTA), zoals in de banners van Hillary.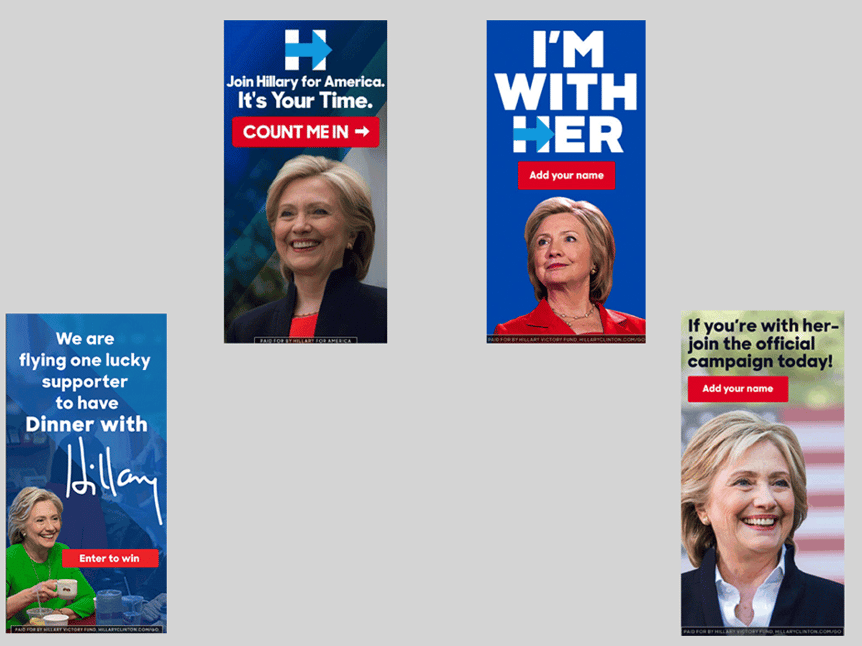 De sociale campagnes maken ook ruimschoots gebruik van de proactieve gift, een geschenk dat je up-front kan winnen en dat je als kiezer nauwer verbindt met het merk, de kandidaat. Schoolvoorbeeld is de "cap" van Trump, met de campagneslogan erop: "Make America Great Again". Als je klikt om de pet te ontvangen, kun je ook doneren. Je wordt dus meteen een lead of een donator.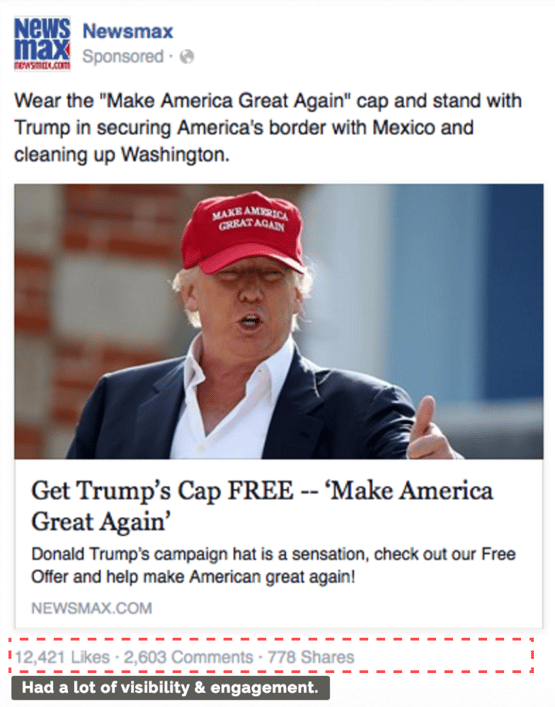 Veel succes had ook het lead generation formulier voor de SMS campagne van Clinton.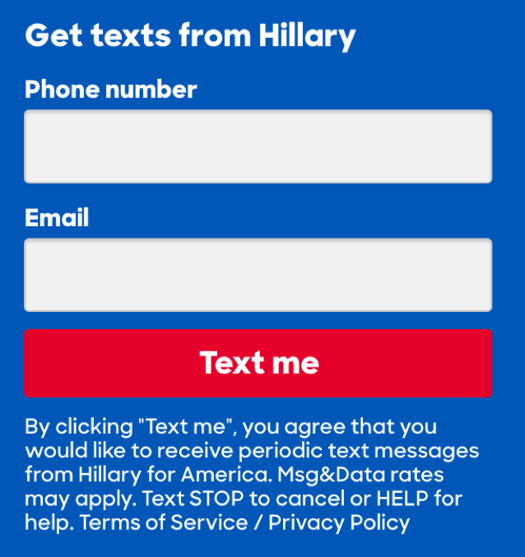 De directe benadering van Clinton bleek totnogtoe velen te overtuigen: een engagement is nooit meer dan één klik verwijderd. De landingpagina's zijn erg consistent en verbinden een kleine donatie aan ondersteuning van de kandidaat en je wint misschien een cadeau of een ticket voor een (verkiezings)event met enkele van Amerika's topartiesten (waaronder ook presidenten en ex-presidenten).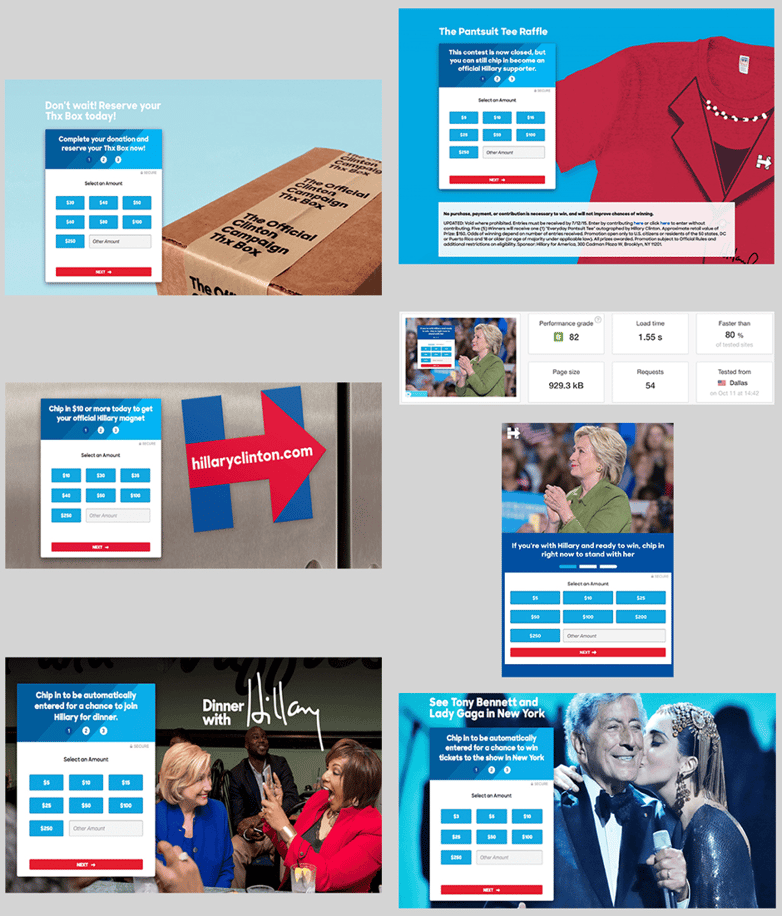 Een landingspagina van Donald's campagne is indrukwekkend in al zijn simpelheid: een selectie video's, meestal ophefmakend, tweets over de actualiteit en de mogelijkheid om te doneren. Wie doneert, ziet zijn naam passeren in de ticker box bovenaan de pagina, met het bedrag van de donatie. Donald vraagt wel substantieel grotere minimumbedragen dan Hillary. Hij begint bij 35$, Clinton bij 1 tot 5$. Zegt dat misschien iets over de focus op de doelgroepen?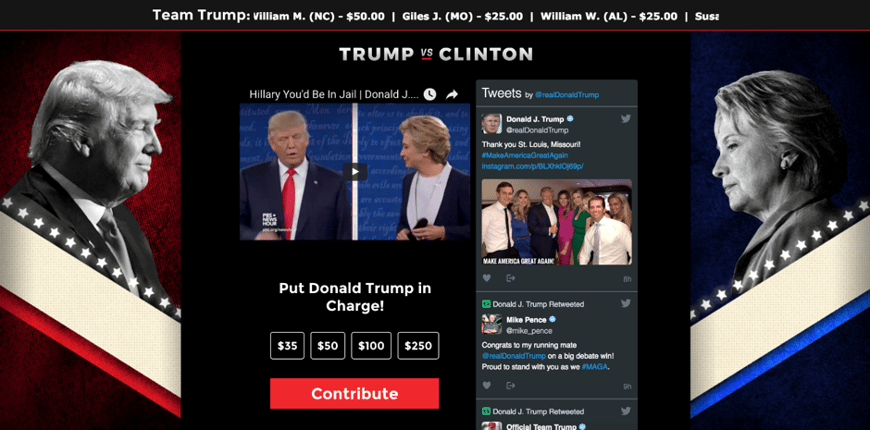 Via e-mail campagnes worden kiezers ook aangesproken. De double five campagne van Hillary mist niets aan duidelijkheid: het neemt maar 5 minuten om op vijf manieren Hillary te ondersteunen. Je vriend een verjaardagskaartje door Hillary getekend laten bezorgen: vul jouw en zijn gegevens in en iedereen is happy. Hoe snel wil je een database met leads opbouwen?

Via persoonlijke e-mails worden leads verder gepamperd, zoals deze van een campaign manager van Hillary, die inspeelt op een (lokale) problematiek waaraan de lead zich via een actie verbonden heeft.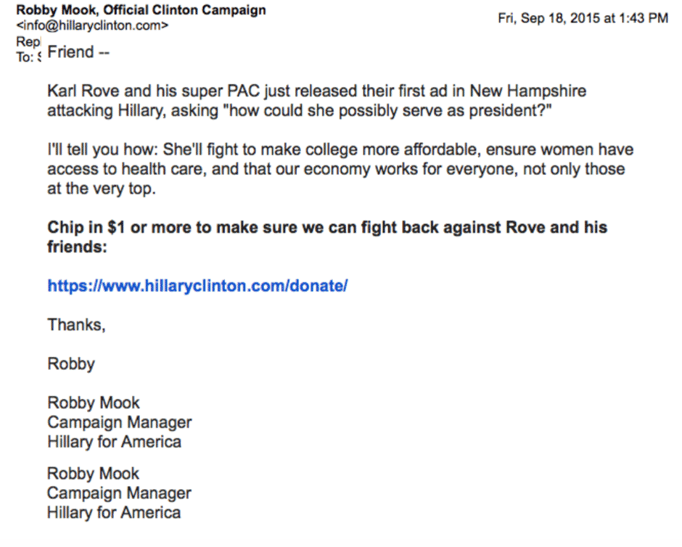 En eens je een lead bent, kom je er niet zomaar meer vanaf. Unsubscriben kan je altijd, maar je moet je wel over een slecht geweten kunnen hijsen, zoals blijkt uit de boodschap op deze unsubscribe landingspagina. Wie wil geen deel uitmaken van een betere toekomst voor alle families in de US?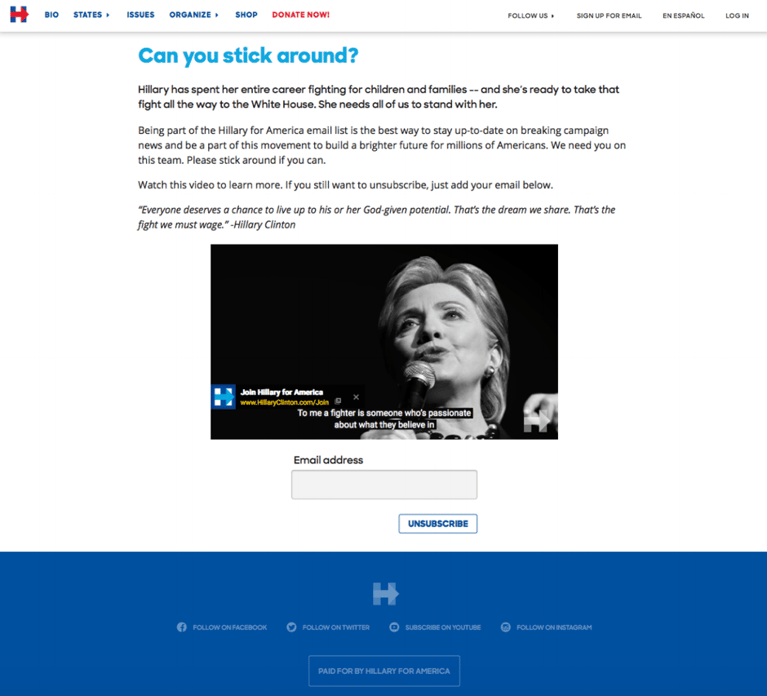 Gebaseerd op https://www.databowl.com/blog/posts/2016/10/12/What-the-US-Presidential-Race-Can-Teach-You-About-Lead-Generation.html.